Believe it or KNOT?
The thick, voluminous and untamed hair is really a chore for me.
I use more shampoo, conditioner and mask than anyone in the family.
It has always been a chore to comb my hair after showering and waking up in the morning and my
comb is always filled with hair after combing, and I know my scalp is cursing at me.
Do you know that we only have 25 strands of hair growth per root. Even though I have thick hair, but that doesn't mean that I can afford to lose them like now?
So recently,

WetBrush

sent me their NEON brush that can settle all my woes! Thank you!!!!!
I have read up so much about the brush and been seeing ravings and compliments towards the hair brush.
I've been testing out the item for the past 2 weeks,
AWESOME brush, i SAY!
Believe it or not, I've have not been using my trusty hair brush anymore. cos the hair fall has significantly dropped ever since I started using the WetBrush!
This brush comb can be used on wet or dry hair and is perfect for all hair types. It features a soft, rubberized non-slip grip for a secure, comfortable grip
The Wet Brush's Intelliflex™ bristles are super thin, strong and flexible. These bristles will glide through any hair type combing out tangles effortlessly. The bristles' flexibility enables protective and pain-free detangling while the SofTips™ on the very top of the bristles massage the scalp to stimulate circulation at the follicle. They are firm enough to comb through knots, yet flexible enough to be gentle on the scalp. Our IntelliFlex™ bristles bounce back to their original form after each stroke eliminating all the hair breakage and pain that used to be associated with brushing your hair. The Wet Brush can be used on wet or dry hair and works on extensions and wigs.
This hair brush works on both wet & dry hair.
Combing hair with wet brush means painful no more!
The messy hair straight after waking up.
Spot the "hairless" brush!!!
Please go and grab yours soon, this might be the best Christmas Present for your loved ones!
:)
Neon is only available in Metro Sengkang
Retailing at SGD 16.90
Regular colours are available at selected Watson's, SASA & aLT@BHG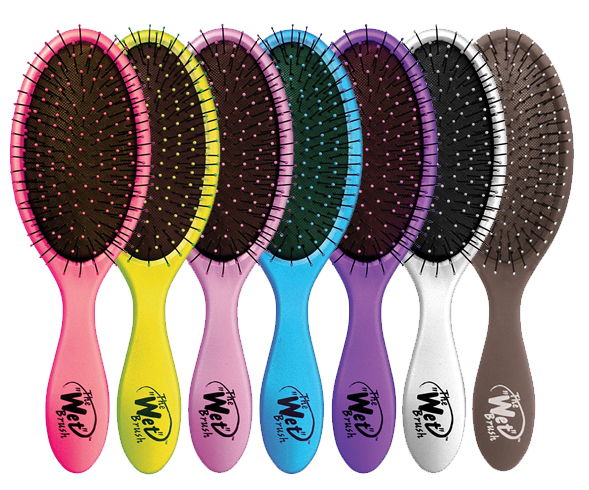 No more pulling of hair, and...
YAY to de-tangling hair at ease!